Classifying posts in categories and sub-categories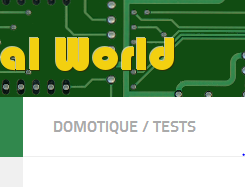 Following a question from Alixes, here is the trick I have used to organize posts in categories and sub-categories as you can see for each of my posts.
To be clear, I had not this kind of organization in mind, but a matrixed one  :
to the top of the page access to the posts through domain names (smarthome, photo, …)
to the left of the page, access through contribution type (links, analyze, medias, tests, …)
Method is simple : each post is associated to 2 categories. I have then a list of categories that includes both domain list and contribution type list. The display looks like category/sub-category but it is in reality a concatenation of all categories assigned to the post.
However there is a topic to take care about on topic. I want the shortlink to the post to integrate the domain name ("smarthome").

How to do that ? Publish post the first time with a single category assigned ("Smarthome") then modify it to add the second category ("Tests"). The shortlink can also be modified manually if necessary
That's it …