"Le bloc" from Orange demoed at Rennes

Le bloc by Orange have been presented several month ago. Orange is continuing to demonstrate it.
e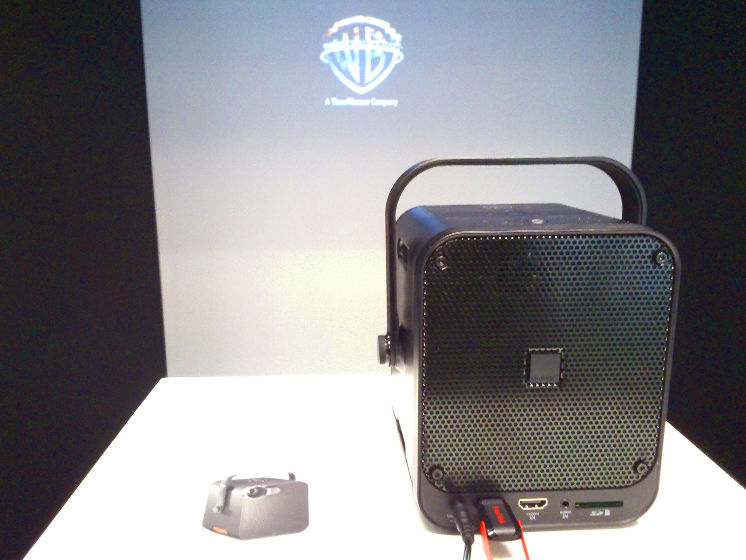 I have been surprised by the small size and low weight of the device in regards to the built-in functions which are, as a reminder :
a 14W stereo amplifier
a pico projector (854 x 480 pixels, 80 lumens)
extensive connectivity: USB, HDMI, 3.5mm input and headphone output, SD/HC card slot
wireless interfaces: wifi ( in client mode but also Access Point mode), Bluetooth, NFC
extensive compatibility in terms of formats and protocols
Given the design of Le bloc, I did not dare ask if they could add a 6.35mm jack socket with high impedance input to connect a guitar :-).  Maybe on Version 2 …
Regarding the sound in particular  it  is pretty good and powerful : the acoustic part was developed in conjunction with Cabasse engineers . The set also benefits of spatial sound algorithms that expand the sound field and improve its perception.

These algorithms are already known, they have been integrated for example in Orange Liveradio. They are also used for the extracts available on Nouvoson by Radio France. Everything is made ​​in France, and even made ​​in Britany since the team of Orange labs audio specialists is located in Lannion.
Regarding video projection, this is the normal set of quality from a pico projector: accuracy and brightness are rather low. There is also a lack a parallax adjustment to accommodate to all projection configuration.
The pico projector is also the most power hungry part of Le bloc. Video projection does not last more than 2 hours using its 5200mAh battery, while in audio use it can reach up to 8 hours.
We could compare the digital heart of Le bloc to a system like Raspberry Pi, having its ARM cores and hardware video decoders. Everything works with Android embedded (no Android interface is visible ). It explains why there is a so huge number of formats, standards and interfaces that are supported. The list is long, let's stop by speaking about DLNA, Bluetooth stereo, streaming from deezer and Orange cloud …
One would imagine to connect a camera, a joystick to the USB port to convert it to a multimedia center or an android game console .
Some words also about Androïd and Iphone application that provide a way to fully control the beast. Those apps have also been developped by Orange lab teams.
The project Le bloc has been prototyped by Orange Labs team located at Lannion. Many teams from Orange have been implicated into its developpment. Now for industrialization, it has been subcontracted to Awox company known for its singing bulbs named Striimlight.
Le bloc is available for a price of 399 € or 199 € in the case it is coupled with an Orange subscription.
Thank you to Erwan Morvillez and Serge Le Boucher from Orange Labs for their answers to my questions.