Assemble a very long autonomy UPS

My network and home automation installation have become essential to life in our home. Without smarthome controller, the automatisms disappear. Without a server, no more mail, music, TV, internet access :-(.  A power breakdown  is therefore an increasingly feared event, but more than that the deterioration of some device due to power hazardswould be disastrous.
After an unexpected shutdown of the server probably due to an overloading on mains, I decided to set up my long autonomy uninterruptible power supply whose elements were waiting patiently.
Target
UPS unit being able to backup power supply during several hours, ideally 4 hours (maximum time for a minor issue repairing  at ERDF )
Maximum power sufficient to power eedomus, server and network rack, so around 75 Watts of power.
Limited cost
No risks on the setup with mains
Requested parts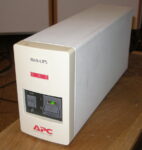 An used APC 500 UPS.
We can find some regularly sold when internal battery is dead.
I've bought personnaly 2 of those for 20€.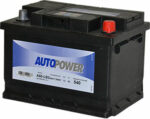 A car battery
I've selected a 60Ah battery myself.
Around 80€ in a supermarket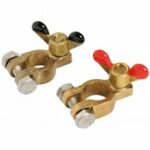 Battery terminals
Around 6€ in a supermarket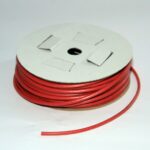 Multi-strand cable 1,5mm2 black and red.
2 meters of each color
Around 3€ in DIY store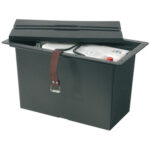 A battery tray for camping cars
The tray is dedicated to the storage of batteries, and resistant to possible leakage of liquid
Around 25 € in specialized camping  shops
Description
Conventional computer UPS use lead-acid batteries. In small models, those are 13.8V batteries, so the same voltage as a car battery.
The APC 500 is one of those old models. It should also be noted that this is an offline inverter, thus providing an average level of protection: the load is directly connected to the mains in normal conditions, and the power supply is switched to the generator from the battery only in specific case (Power failure, overvoltage). This switching takes a few milliseconds which makes the difference with professional UPS. However, an offline inverter provides a sufficient level of protection for a domestic installation.
It is therefore possible to install an external car battery outside of this UPS housing. There are however essential elements to be taken into account:
A car battery is not waterproof, it is degassed. It is therefore imperative to store it in an airy room
The inverter is capable of delivering 500W which represents 40 amps on 12V. It is imperative that the cables connecting the UPS to the battery make are at least 6mm2. I put 4 stranded cables of 1,5mm2 in parallel for each poles, ie 4×1,5mm2 = 6mm2. If you have doubts, add cables !
The voltage of a battery is low, but the peak currents that can be supplied are enormous (> 400 amps). It is imperative to carry out the modifications in complete safety by ensuring at each stage that the insulation between the two poles is good at all points of the system.
A battery may have a defect in time, such as sinking. The acid can cause a fire. It is necessary to store the battery in a tray designed for this purpose and resistant to acids.
The battery charging circuit is not designed for such a battery size. The full charge of the battery therefore takes nearly a week. However, it doesn't create any particular problem in normal use.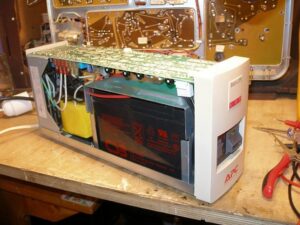 The changes to be made are as follows:
Remove the old battery from the UPS.
Unscrew the old battery cables from the electronic board
Fix 2x 4 cables of 1.5mm2, length about 35cm, to the battery terminals
Welding new cables instead of old battery cables
Put the battery in the battery tray
Cut the contour of the tray cover so that it can fit over the battery. This will be the isolation between the battery and the UPS
Put the UPS on the top of cover on the battery
Secure the terminals on the battery. It is preferable to add a little grease inside the terminals before mounting to ensure a better electrical contact.
Conclusion
For a price of about 130 € I now have an UPS allowing me to provide 75 watts during 3 hours, tested and approved.
My network and server bay (including server, eedomus home box, ethernet switch, adsl router, wifi access point) and radio alarm clocks in the bedroom are now protected from over-voltage and breakdowns.
There remains a problem of location. This set is bulky and heavy (~ 20kg), it must be placed on the ground.
In my case his location was planned in a clearance under the stairs, not far from the electrical panel and the server bay. A specific circuit for the clock radio was also reserved.
One day of plaster and electricity and the whole installation was functional.