Our project, our building choice

Here are the thoughs we had to reach our choice regarding the house builder .
To respect intellectual property rights of companies in regards to documents they have submitted, the names of the companies are not mentioned and all items below are from my own work (3D views) .
Defining our needs
We wanted to focus on interior design in this house building project : roominess , comfort .
On the architectural point of view , we did not have an predefined opinion about it : traditional no problem, ok for modern or ultra modern. However we wanted to avoid having multiple recesses and protrusions at first floor, particularly for energy performances reasons
The most protrusion the house have, the more wall and roof surface is important compared to living area.
The living area targeted was approximately 120m2 with an accurate definition of rooms and  their surface. This study has shown that the surface on the 1st floor will be greater than the 2nd floor. We could not avoid having an extension on the 1st floor corresponding to this additional surface.
Regarding the house volumes and its  appearance we had four constraints:
south orientation of the facade of the house due to the lot
obligation to have the house adjoining the left lot
our desire to keep the required distance of 3 meters from the other side of the lot (this right lot won't be built but a pedestrian path on the side exists )
This is the reason of limitation of the facade length to 12.72 meters
we don't want a front door directly on the front of the house
About the internal organization we opt for :
a bedroom at 1st floor with a bathroom
lounge -dining south oriented
a dedicated kitchen
a separate entrance staircase ( acoustic insulation from 1st to 2nd floor, improved thermal comfort)
a laundry room in the heated zone
3 bedrooms upstairs
a bathroom upstairs with shower and bath
Regarding dependencies :
we wanted a large enough but also wide enough garage to get a bike without taking risk about the nearby car painting.
Maybe one day we will be able to park our car in the garage, it's a sweet dream 😉 .
Also our need for storage spaces is important : the attic above the garage is mandatory
Finally, the rules require us that,  if there is a garden shed, it should be included in the building project. This garden shed has then been planned from the beginning.
We found that, taking into account all thoses constraints, systematically requires on all projets a similar internal organization , and similar external volumes. This seems to me to be a sign that our needs were well defined …
Seeking companies
We were more interested into selecting a house builder than architect + project manager in order to limit risks (especially with respect to constraints RT2012 ),  this is not why we have not to test which kind of project an architect could propose. We found company names mainly through internet , discussions with our knowledge and visits on building sites .
We have contacted two architects , 5 house builders and 1 architecteur .
A first skimming phase took place during first interviews : 1 architect and a architecteur did not want go forward.2 manufacturers have also stopped there in an unkindly way  : no news, no answer to calls. Well …
There were then three hous builder companies and an architect who wanted to work on our project.
Our choice of house builder
The comparison between the different proposals have been done on the following projects :
House builder 1
House builder 2
House builder 3
Architect + project manager

Front view


X

Rear view


X

Price / m2 living area

1430 € / m2
1590 € / m2
1316 € / m2
1459 € / m2
Surface below 1.8m

7,35 m2 au sol
0 m2
0 m2
0 m2
Garage, garden shed, attic
67 m2 on ground
74 m2 on ground
71 m2 on ground
51 m2 on ground
masonry
aerated concrete for the house, concrete block for garage and shed
aerated concrete
Easytherm
Concret block
Water heating

thermodynamic water boiler
solar water heater
thermodynamic water boiler
thermodynamic water boiler
Heating
condensing gaz boiler
Radiant floor heating for 1st floor, heaters at 2nd floor
condensing gaz boiler
Radiant floor heating
condensing gaz boiler
Heaters
Electric heaters
Equipment
Electric blinds and garage door, 40 m2 terrace, 1st floor terrace
Electric blinds and garage door, 25 m2 terrace
Electric blinds for 1st floor, manual garage door, no terrace
Electric blinds and garage door, no terrace
Comment
The house compromises. Manufacturer to listen to our needs.
Any cellular concrete. In the end the price was much higher than our budget
Very good price with single slope roof. Many additional costs and shortages compared to our requests
Very stylish modern home, not taking into account the needs, very high price
You may notice that the building material and the type of heating vary greatly from one proposal to another.
Rather than understanding which project we have chosen and why , let's remove on proposal after each other :
Architect + Project Manager
This first project was aesthetically very modern, we like it a lot. However for the inside organization, bad work 😯 , none of our request were taken into account: no entry, a kind of Loft organization without sound insulation between 1st floor and 2nd floor, kitchen opened, no attic , etc. . .. Perhaps is it due to the fact that the project was actually done by a trainee ? In terms of price we were above our budget around 10%, but given the benefits of this modern architecture, it could be understood. Note also that the heating was electric and walls made of Concrete blocks. This is still possible with the RT2012 norm if insulation is sufficient (in this case it was planned to put 160mm of rock wool on the walls and 400mm in the attic ) .
A second project was undertaken , taking proper account of our constraints. But the cost have exploded our budgets by almost 50 % , with no possibility to go back to a reasonable price.
Project cancelled.
House builder 2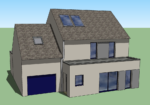 The manufacturer proposed a project that was matching our expectations. Furthermore building was done with aerated concrete , which is my preference . Four appointments have been necessary to work on the project. We remembered during each of these appointments what was our budget constraint that could , according to the manufacturer, be held . During the last meeting the final price was available : 15% higher than our budget 🙁 Moreover, it was a type of house rather fixed , with few levers to work on that cost.
We also discovered that solar water heater is a good system, but in Britany the performance ( COP ) on average is only 2-2.5, which is not better than a thermodynamics water heater, but solar heater have a higher cost of  1500 €. The conclusion on this matter with the house builder was that the solar heater could not finally be amortized , but we had to count on our ecological mood to select this kind of technology.
Finally the visits of a showhome gave us some constructive information : a garage made with aerated concrete is well insulated but it does not breathe and so it is very humid. Why then building a garage with aerated concrete if it obliges to use forced ventilation?
Project cancelled.
House builder 3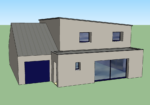 This project had our favor for a long time : very good price for a house with a single slope roof ( which is often more expensive).
The first point that made us wince was avout the detailed description : many features were optionnal and were adding cost to the overall project. Simple example: a line of hand drawn on the front of the house or a two color facade and the price was increased, while other house builders offered these services at the same price . This approach using surcharge for many things is also not necessarily gave us confidence about the project and the price. However, this could have been clarified by working those details, but the price would have not been the same.
The second point concerns the visits on two yards we have made : the first house had concrete block walls with, at some places,  more than 1 cm vertically between each block . The second house had stained door jambs and moisture (probably due to the method of projected plaster) .
The third point concerned the financial health of the company : at the first commercial appointment the commercial showed us his empty book of appointments . After taking some information , life seemed to be actually very hard for them.
Project cancelled, although we've learned later on that the company had been redeemed and have continued his normal activities.
House builder 1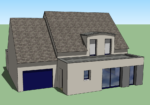 This is the project of compromises : it is not perfect but good overall. In particular all the requirements have been answered, and even more ( accessible terrace upstairs) , for the targetted price. However, we had to make concessions: the rooms upstairs are not full height but some parts are under the roof , the surfaces are slightly less generous , heating is done with using best quality vs price products …
Some visits of house building yards were rather inconclusive. In particular, an house built using aerated concrete was being completed and the quality of the masonry was very satisfactory . Finishes seemed also to be good .
We finally get all answers to our questions, without necessarily always adding an additional cost to the project.
The topic that seemed the be most critical was the distance between the company who was not located on the Rennes region. How can they manage correctly when you have nearly 2 hours drive for the round trip ? It turns out that this company has taken a contractor on the Rennes region to manage projects they have on Rennes's countryside. The situation is therefore clear for this topic .
Project accepted.
The final signature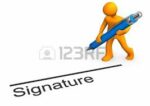 If I think about all the phases that allowed us to conclude by a signature, here it is :
4 versions of the detailed description.
at least 6 drawing versions
5 appointments
2 very detailed emails (> 5 pages) from us to the company, with photos and 3D views, to describe very precisely what we wantedregarding internal organization and external aesthetics.
According the company manager we were a little more tiring than average, but others are much more picky than us.
The signing took place July 2, 2013.