Mobile operator Free propose free SMS alerts

Since yesterday, 11th of june 2014, the french Mobile operator Free gives opportunity to its subscribers to use a new feature. This one permits to receive freely SMS messages through an API hosted on their servers.  This is a very interesting tool to send alerts from smarthome installation or for connected objects.
Merci Free, et encore merci !
Activating this feature
This one is by default deactivated. You can activate it in your subscriber section available at http://mobile.free.fr.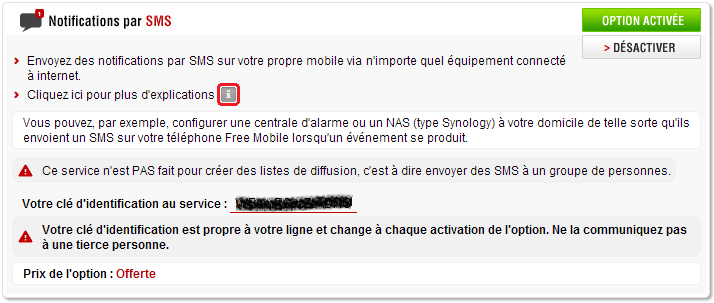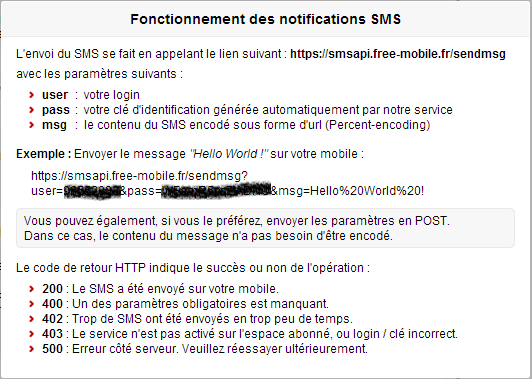 When activated, an identification key is generated. It has to be used in conjunction with you account password when calling the API.
This API is really simple to use, more than that it is clearly explained when pushing the question mark button in the panel.
URL to be used ( including your key and your password ) can be directly copy pasted from there for the first shot
https://smsapi.free-mobile.fr/sendmsg?user=xxxxxxxx&pass=yyyyyyyyyy&msg=Hello%20World%20!
API access is secured (https), fortunately !
SMS option provided by eedomus controller
The eedomus controller,  with Premium option, already offer the feature to send SMS to whichever number or mobile operator. SMS number is limited to 30 per month which is really sufficient for alert messages. From an eedomus rule you can also send a SMS to several recipient.
Those alerts are fully integrated into the way of working of eedomus, being at device level or rules level. They can be easily activated by simply ticking an option.
Unlimited SMS with Free in your eedomus
Having unlimited number of messages available means you can send several per day with informative content instead of being only alert messages. However, it is only possible on your own mobile phone. You have also to systematically create a rule to send them.
However doing those rules are quite easy. Rules themself will call a HTTP actuator. It is possible to use a single actuator for several Free accounts, but to clarify organization, I opt for one actuator per mobile phone. Configuration of those actuators have been described in previous post Give a voice to a smarthome setup, please refer to this one for details about it :
Value list will contain URL and parameters to be sent :

I've chosen to use [VAR1] and [VAR2] to store identification code and password, then you have to enter them in Configuration tab.

A new value is to be created for each type of SMS message to be sent. Parameters are :
Description : name displayed with setting rules
URL : https://smsapi.free-mobile.fr/sendmsg
Type : GET
Parameters : ?user=[VAR1]&pass=[VAR2]&msg=Text message
I've discovered that special characters are working well also, you can then type your message directly, spaces included.
It is also possible to have device values embedded into the message. I'm sending house temperature for instance by using those parameters :
Parameters : ?user=[VAR1]&pass=[VAR2]&msg=House temperature is [LAST_VALUE PERIPH_ID=88094] degrés
88094 is API code of my probe for eedomus. This code is available in configuration panel of each device if API have been previously activated in controller.