Intelligent Light management on eedomus

The way of working I would like to obtain for the lighting in my stairwell is this one : lights on immediately when a movement is detected, but only if the light level is insufficient.
This time, automated management of light have requested me to scrap my head …
Limitation of chosen equipment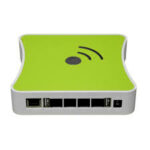 Equipment in used have some limitations :
information processing by the controller induce latency. The switch of light after detection is not immediate if we plan to use this controller. In case of eedomus this latency is around 1 second, which is not acceptable in my case, I don't want to climb the stairs for a second in the dark.
aeon labs 4in1 multisensor and motion detector  (tested here), returns room brightness but can't process it locally. The detector is for example not able to send a light on command to the lamp only if the brightness is below a certain threshold.
How to address those issues
Direct association
Rather than go through the controller for lighting, motion detector can directly control the Fibaro FGS221 switch module. In this way latency becomes imperceptible (<100ms).
This association is achieved by changing the radio parameters of the detector module.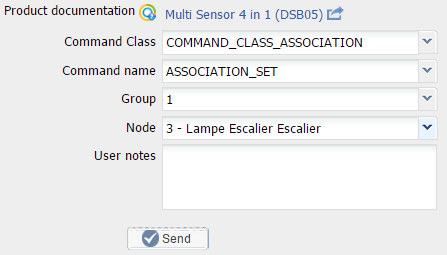 The group have to be equal to 1 in the case of a Fibaro FGS221 module, it corresponds to the first switch channel. The node must correspond to the module to be controlled. The eedomus  simplifies this selection, thanks to the module name you have set that is also displayed.
Because of this direct association, adjusting the ON period is managed directly by the motion sensor. I have chosen 2 minutes 40 seconds (or 160 seconds).

Rules to know if ambient brightnessbrightness is sufficient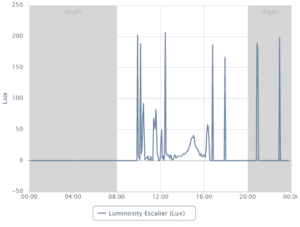 The 4in1 sensor returns regularly brightness of the room. These values are sent, the light being ON or not, you can then not use those directly as room ambient brightness (thus the brightness when the light is off)
We're going to create a virtual actuator which will contain those 2 values :
Value 0 = room is too dark
Value 100 = brightness in the room is sufficient
Let's speak now about the rules that will update this actuator

First rule  when brightness is insufficient ("Luminosité escalier faible") includes nothing particular :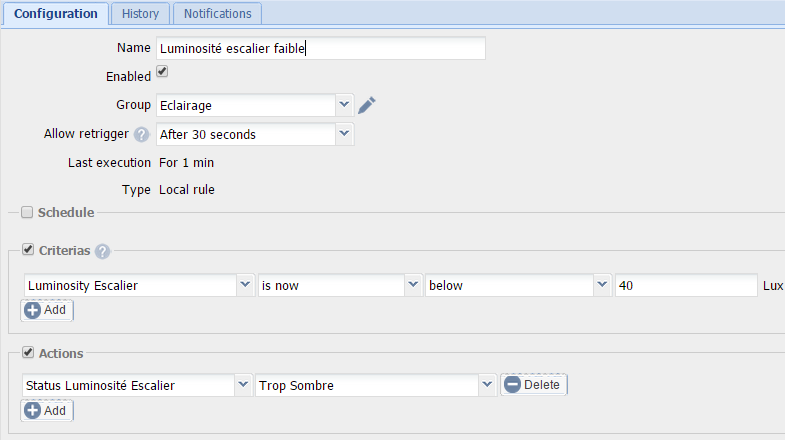 If brigthness is below 40 Lux
Then room is too dark
The second rule when brightness is sufficient ("Luminosité escalier suffisante") includes a tweak :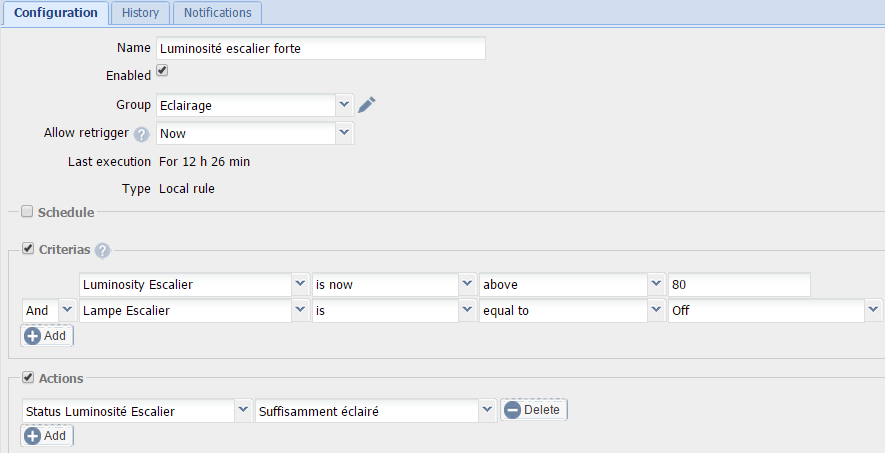 If brigthness is now above 80 Lux AND light is OFF
Then room have sufficient brightness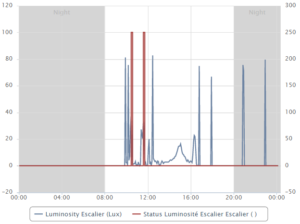 Those two combined rules are generating a correct status of ambient brightness of the room.
For instance, in this winter day, only two time periods were detected when brightness is sufficient in my stairs.
Light OFF management by the controller
Because of direct association between detector and Fibaro module, it's not possible to prevent light from switching. However the controller can react to movement detection and switch lights OFF quickly if room brightness is sufficient.
This function is managed by a third rule :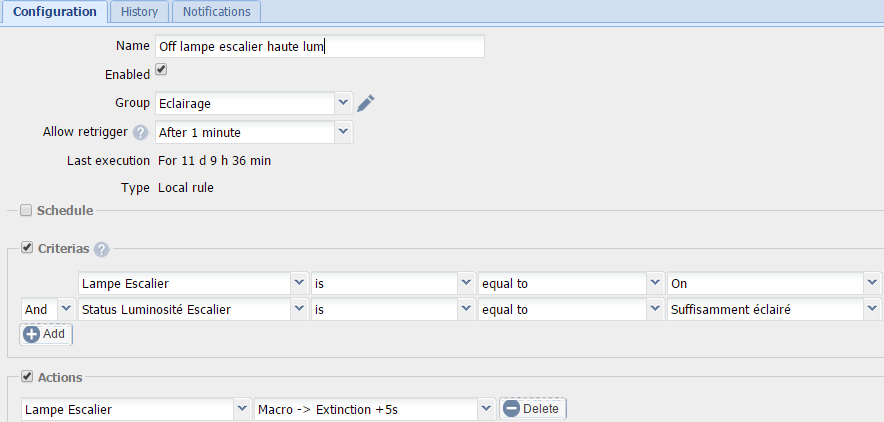 If light is switched ON AND room brigthness is sufficient
Then switch the light OFF after a 5 seconds delay
Conclusion
I almost reached the optimal operating mode equivalent to a basic motion detector + brightness sensor. In this case the lamp is going to switch ON a few seconds even if the brightness of the room is sufficient.
Note that other smarthome module units would have allowed easier ways to manage this :
regarding motion detector, a Fibaro FGMS-001 can locally manage two operating modes (day / night) as a function of the ambient brightness
regarding latency induced by controller treatment, it depends on the model and sometimes the number of rules to deal with.
Finally, I would like to conclude with a reminder :  that integration of such function in an overall smarthome system improves overall usability of devices. The various sensors of the motion detector can be used for other functions (alarm system, heating and blind management , …), the Fibaro module can be integrated in a centralized lighting management.