Eurotronic StellaZ Thermostatic valve test

Eurotronic is offering for some time thermostatic valves for smarthome integration, called Stella models. They can replace standard thermostatic valves on your radiators. Different models exist integrating different protocols: proprietary protocol, enocean, KNX RF, Zigbee, Zwave. The last letter of the product name is indicating the protocol used.
We will focus on Zwave version in this post, version named StellaZ.
There are only few product of this type on th market. The StellaZ is a competitor for Danfoss Living Connect 014G001. However, they are quite different.
Packaging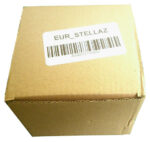 The packaging is basic, to say the least : noname box with a label on top.
The set is containing :
Thermostatic valve
beige adapter for radiators with Danfoss valve type
various other black plastic adapters for other formats that can be found on a radiator.
Note the rather average finish of these adapters : they are joined to each other when received and breaking bonds reveals imperfections on those adapters
Having my share of Danfoss valves type I have not had to use the others kind of adapters
a screw and nut necessary for two black adapters
a key with two teeth to remove the valve from the radiator
A user manuel (A4 dual side printed page) available for download using the following link
Presentation
Let's start by having a look on this thermostatic valve :
Located on the top is the standard duo button + led for pairing and other network functions. We can also see a small hole in which an electronic component appears : it should be the thermistor used to measure the ambient room temperature.
On the front are presented the labels for the products with EuroTronic logo and unit name. The layout of this display on the most visible face of the device is not a good idea. Fortunately these inscriptions are gray , they are then barely visible.
On the front is also the access door to the batteries, as it is indeed a battery operated device. Unfortunately the hatch seems rather fragile (be careful not to break the two small arms) . Same conclusion on the battery contacts that looks like really first price. Be careful also when inserting the batteries, there is no physical keying. The orientation of the batteries is engraved at the bottom of the container , but it is not obvious to see it.
Few things appear on the bottom of the thermostatic valve apart from the door clip and two holes. These two holes are used with the two-teeth key to disconnect the valve from radiator. This key is actually discarding two tabs that appear on the photo at the right. These are the ergos that secure the thermostatic valve to the aforementioned adapters. These pins do not give the impression of a large strength in regards of the significant pressure that will be applied to them when resting on the radiator valve tap .
On the overall finish is just ok , with very visible and not very graceful plastic sockets.
Montage du thermostat
Mounting the thermostatic valve is relatively simple, at least in the case of using the adapter for Danfoss valves type. For pairing, this is still the duo button + LED to be used, like the majority of Z-Wave devices, so it is not very ergonomic. After a few tries, you get it working …
Note that it is important to put the thermostatic valve in a specific mode to connect to radiator : it totally fit the piston inside the unit to ease mounting.
Once the installation and pairing is done, we are in the presence of an automatized radiator :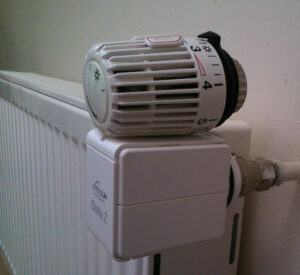 Visually, I'm not very pleased with StellaZ integration. However opinion of the family is better than mine, I received a general approval. Reality is that the thermostatic valve is still quite small in regards to room size.  Have a look to the picture at the right  for a visual comparison with a standard thermostatic valve. The size is similar, but the Eurotronic unit is necessarily more angular and more imposing.
StellaZ with Veralite controller
The installation of this device with Veralite is done as usual. Control panel of StellaZ peripheral give acces to those parameters :
Working mode ( Comfort mode or Economy mode)
set point configuration
ambient temperature
Battery level
An inaccuracy issue is due to veralite, because this controller is removing decimals for Zwave peripherals. Comparing ambient with set point is still possible but with a precision of  1°C.
Direct control of valve position in percent is not directly possible. It may be however possible to find some workaround by developing a luup script to do it.
StellaZ with Eedomus controller
Installation of StellaZ with Eedomus is done very easily. After it we have access to two panels that give access to set point for one and display ambient temperature for the other :

Battery level is available also into peripheral setting panel.
Working mode, direct control of valve position in percent can't be managed.
Ambient temperature is correctly displayed by eedomus controller, but accuracy is limited to 0,5°C. This time, this is not an eedomus controller limitation but one from StellaZ valve which have a measurement precision of ±0,5°C.
Comparing functions
The Eurotronic thermostatic valve has many features through the Z-Wave network. It is clearly providing more functions than its counterpart Danfoss unit :
Configuration
Eurotronic StellaZ
onVeralite
Configuration
Danfoss Living Connect
014G0012
on Veralite
Here is a comparison of features availables depending of units :
Thermostatic valve
Stellaz Support

 

Stella Z
Danfoss
Veralite
Eedomus
Temperature setting point

Yes

Yes

Yes

Yes

Measured ambient temperature


Yes

No

Yes (accuracy 1°C)

Yes (accuracy 0,5°C)

Battery level

Yes

Yes

Yes

Yes

Opened window detection

Yes

Yes

–
–
Comfort mode

Yes

Yes

Yes

No

Eco mode

Yes

No

Yes

No

Antifrost mode

Yes

No

Yes

No

Direct control of valve mode (in %)

Yes

No

No

No
Lack of different modes on Danfoss device is not necessarily important, since the temperature can be directly changed. At the opposite the ambient temperature measurement on StellaZ is very interesting , even if this is not very accurate because taken near the radiator. This is a good indicator of the need for heating the room . A direct comparison between the setpoint temperature and the measured temperature can be used to trigger the boiler for supplying heat in a particular room.
Finally it should be noted that direct control of the valve position is possible. This feature can for example find sense in an advanced control sytem. For instance : the zone control of an underfloor heating .
Unfortunately Veralite is not able to use this mode, it has not been possible to test it.
Test results
Thermal regulation
After installing  StellaZ valves, the feeling about temperature regulation is very good. With a setting to 20 ° C wind chill is almost constantly at an ideal level, neither too hot nor too cold in both rooms that are now equipped. The temperature stability is greatly improved compared to conventional thermostatic valve previously installed, comfort is improved.
By adding a temperature sensor (Oregon Scientific) in a room, I was able to verify that this impression is reflected by measurement :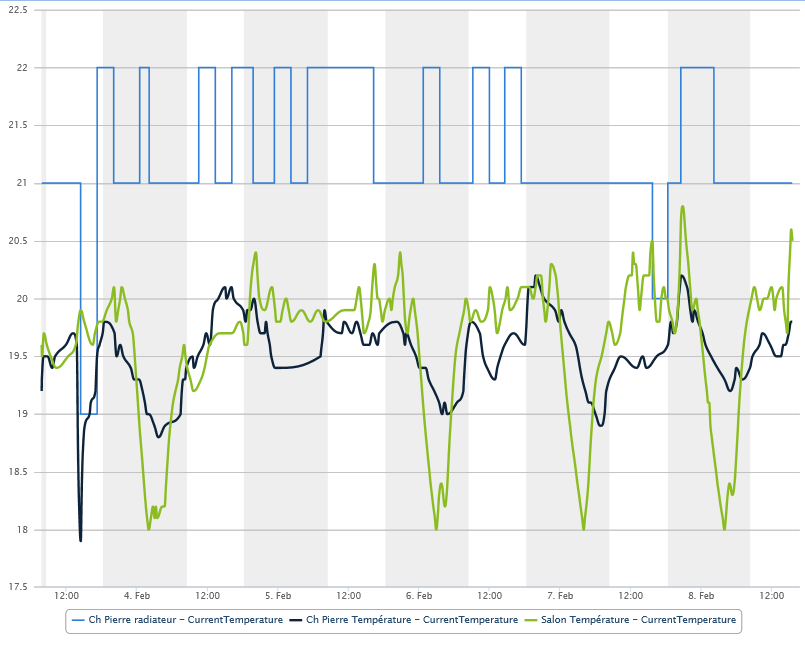 The black curve corresponds to the temperature in the room equipped with Stella .
The green curve corresponds to the temperature in the living room which can be used to detect the heating off periods during the night. If the central heating is switched off , the thermostatic valved obviously can not raise the temperature in the room
The blue curve is the temperature measurement provided by the Stella Z. It has a limited 1 ° C precision due to the Veralite accuracy. One can see for example that the opening of a window has an impact on the room temperature but can also be detected using the temperature measurement of the valve.
The regulation can generally be considered good : about + / – 0.2 ° C change in 10 hours.
All in all I've got the feeling that the regulation is better than the thermostatic valve from Danfoss . However, these units are located in different rooms with different constraints . It is therefore difficult to give a definitive conclusion at this level.11
Consumption
Now, what about the battery drain of StellaZ ? I recall that the unit operates using two AA batteries.
Firstly, I have noticed that the battery level measurement works correctly even if the given level with new batteries is 111% …
The battery level after 80 days is 83%. this is around 2,5% decrease each week. This would give a battery lifetime of about 10 months. From my experience with Danfoss thermostatic valve, this period should however be greater than this value. The wear rate is decreasing during lifetime. We can probably expect a lifetime of about 1 year. To achieve this figure you must however take care about two things : putting a low level setpoint  in summer (7 ° C) when the heating is off to limit regulation movements, and limit waking periods of the valve.
Conclusion
+ Good room temperature regulation
+ Ambient temperature feedback
+ Correct battery lifetime
– ambient temperature precision of ±0,5°C
– long term reliability to be checked. Regarding some visual aspects, we may encounter some problems (battery contact problem for instance)
– thermostatic valve finishing is just acceptable
– Packaging and accessories are not qualitative
---
Update 2014-04-24 : Adding information when used with eedomus, update about battery lifetime