The mystery of Seat Mii Electric charging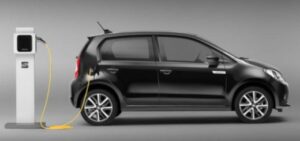 After an awaiting of 8 months (!!!) we now own a Seat Mii Electric. I have then done some charging tests with an Openevse wallbox. This wallbox's connected to smarthome server then I can analyse charging datas of the car.
Note that apart from smartphone app which should be different from one brand to the other, it's fairly probable that those information are although true for Skoda Citygo-e IV and Volkwagen e-up, if they are of latest generation (32kWh battery).

The vehicle is equipped with a button for management of charging which is located at the bottom of the dashboard.
This button's showing charging status and you can also change the mode.
Lighting of the button can have three states :
shut down : no charge programmed et no ongoing charge
fixed lighting : programmed charging. Charge will start later following the configuration you've done.
flashing lighting : charging ongoing
Pressing this button have the following actions :
if lighting is fixed (like animation) : switch to immediate charging (lighting switches off). Then two possibilities :

If a charger is connected, charging's starting (flashing lighting)
if not charger then immediate charge is activated during 35 seconds, then it goes back to planned charging. 35 seconds is then the time you have to plug the charging cable onto the car.

if lighting is off : activation of programmed charge  (then lighting switches on)
if lighting's flashing : charge is stopped and activation of programmed charge.
Note that this button have any lighting if car is switched on. It stayes active also around 1 minute after the car's switched off. After this delay the lighting is switched off to reduce consumption.
Charge programming
It can be done using three methods :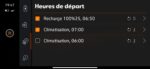 by using smartphone app DriveMii App.
by using website my.seat. Connection with the car is done with its 3G connection. You can then configure the charging everywhere

To have it working

SIM card of the car have to be activated
you have created an account
you have integrated your car inside this account

by using the smartphone app Seat Connect app which offers the same functions than the website
Charging speed at home
This subject seems simple, but it's not. The following information are from tests I've done at home (electric network is recent and single-phase, wallbox openevse, 45A electric subscription)
First of all, we have to remind that technical specification of the car are true : Seat Mii Electric can charge at 32A although on single-phase installation, meaning a  full charge for 5 hours. It's important in my case because I want to charge during night and off-peak hours which is a timeframe of 5 hours here.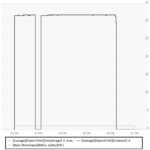 The charge time I can measure is 4h35  from 10% to 100%, then 5 hours for full charge is true. I've also checked that charging current, which is in fact regulated by the car itself, is constant and without peak. My circuit breaker being a 32A it would have tripped quickly if it was not the case.
Let speak about less sympathetic information :
firstly it seems that 32A charge's only activated when car's SIM has been activated and charging speed have been changed on Seat Connect App.


To enable it, start a manual charge from app but with a lower power level than "Maxi", for instance 13A. After some minutes set charging speed to "Maxi" and activate the charge. From this point your vehicle should be able to charge at 32A (thank you @pfr69).


There's no reason not to activate this sim, but this needs some to have it done. I have then at least some reason why first charges shouldn't be that fast.
then in single-phase I can check that 32A charge is only possible for a programmed charge or a battery level below threshold (during night for instance, or battery level below the 30% level I have set). If I connect the car during the day on the same wallbox and activate charging immediately, current is limiting to 16A, then charging time is doubled.
Charging time on public charging station
Don't hesitate to confirm or correct those information by writing a comment at the end of this post.
immediate charge on public charging station with Type 2 connector (then AC) permits to charge at 32A (7,2 kW). (thanks to Philippe C.). It's probably linked to the fact that this station provide three phase electricity. Full charge can then be done for 5 hours.
For that you have to configure the maximum charging current for instance by using Seat connect App
it's also possible to DC charge using combo CCS connector up to 40kW. Be aware that this power value is a maximum, in real lif it's limited by several factors : charging level of the battery, battery temperature, battery wearing … The charging time is theorytically of 1 hour for 80% charge.
Charge programming
I've not tested multi-periods charging configuration. But I've tested with a single period, for instance using Seat connect App, here is a presentation :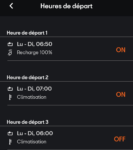 at first you configure departure time

Be aware this is not starting time of the charge, but the time when you plan to start using the car.
The vehicle will then start more or less sooner the charging in order to attain the requesting level at departure time
during this configuration you can also configure an off-peak period. I've read that this features seems to be buggy. I then propose not to use it, and only set departure time at the end of off-peak period.

Associatied to departure time is a location

This term is quite strange because it is limited to configure type of charge and maximum level of charge

Type of charge : charge only, air conditioning only or both
Level of charge : Maximum level of battery charge with 10% increment.

Reducing the maximum level of charge has the benefit to improve battery live. If it's sufficient for your own use, think to limit maximum level of charge to 80% or 90% most of the time.
Charging curve with a home wallbox
Here are two measures with end of charge set to 6h50 ("departure time") :
| | |
| --- | --- |
| Charge 10% to 90% (controlled by smarthome server at the end) |  Charge ~80% to 100% |
| | |
We can discover several things on thos :
Left curve

Charge algorithme start at a coherent time taking some marging. We can see there is a stop of charge during 30 minutes around 3h00 in order to resync on configurerd departure time.
there can be some charging gaps but target is attained in the timeframe.
charge current is constant at 32A for 10% to 90% battery level.
here end of charge is stop by smarthome controller which request wallbox to stop charging.

Right curve

Current is decreasing slowly  from 32A to 13A during the last 50 minutes. This is a normal behavior when charging Li-ion. This correspond to battery level from 90% to 100%
It seems then interesting to prevent charging above 90% if you are in a hurry and have no need of this extra juice.