Version control in WordPress

One of WordPress feature which is not highlighted is version control management of a post. This feature is available by default, nothing to install. With this one, you can check modifications done from one version to the other, but also restore an old version of a post.
To use it, edit a post, and use feature called "Browse Revisions" :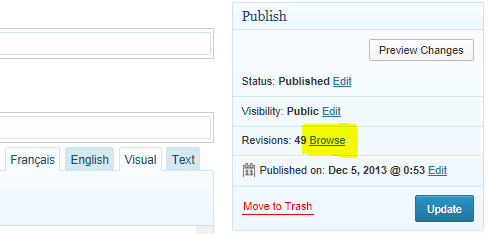 A window is opening where you can see  the current version of the post at the right , and an old version at the left. All differences between them are highlighted :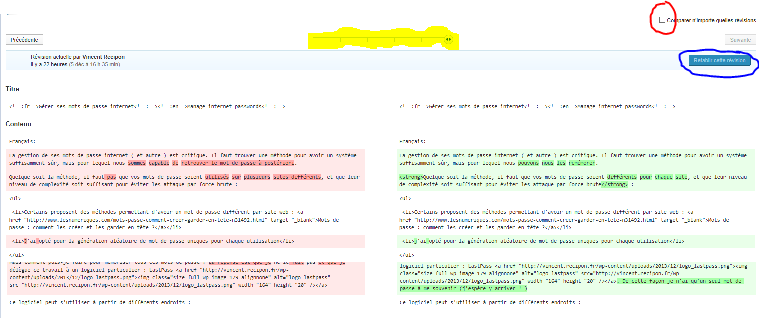 A slider at the top of the screen ( in yellow above ) permits to select which old version to be compared. Slider size depends on the number of revisions available for this post. More than that, a checkbox "Compare any two Revision" ( in red above ) doubles the slider, you can then select both versions and compare two different old revisions.
Last point, you can restore an old version with the so called "Restore this revision" button ( in blue above ).
However there is one drawback related to revision control : it generates a set of data about older revisions that increase in the database used by WordPress. This increases the size of the database and can reduce the overall performance of the site.
In order to eliminate this problem, it is worth installing the extension "Thin Out Revision". This extension supports multi-site. This will allow to perform the following actions :
remove all existing revisions when the post is published for the first time, so all revisions done when writing the draft of the post
delete old revisions, anteriority being configurable.
The configuration of this extension is done through the options settings of the Dashboard, refer to the screenshot on the right.