Test of power rate tele-information module from GCE Electronics
For 1 year I've used this script described on my blog to retrieve EDF information relative curent day's cost. Unfortunately this script no longer works for some time because EDF Web page's format has changed. After a quick search for a patch, which would be difficult, I started searching another solution.
Je suis en effet à présent en tarif EDF Tempo, et il devient important d'être prévenu de façon fiable des jours rouges, voire blanc, si je veux rentabiliser cet abonnement. D'autant plus que l'hiver arrive et les jours à tarif élevés également.
J'ai alors découvert ce module GCE Electronics à prix très doux. Ce module s'interface entre le bornier de télé-informations disponible sur tous les compteurs ERDF et la box domotique (ou l'ordinateur) par USB. Le module remonte alors toutes les informations délivrées par le compteur.
I've indeed now an EDF Tempo electricity rate, and it becomes important to be warned reliably about red days or white, if I want to monetize this subscription, Especially as winter comes and so th high priced days.
I discovered this low price GCE Electronics module. This device is an interface between the remote information terminal  available on all ERDF mains metering and home automation controller (or computer) via USB. The module then pushes all the information delivered by the counter.
Description of module and installation
The small module comes with a USB cable of approximately 2 meters and instruction manual.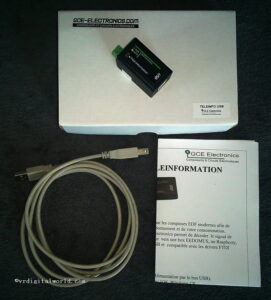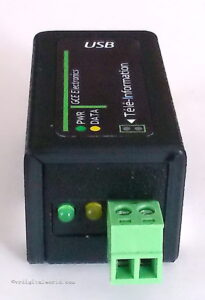 The manual is brief, but the installation and use are very simple. it have a mention about the compatibility of the product with eedomus controller, this gives confidence.
The module is small and has only a USB-A connector on one end, the electric terminals and 2 status LED status on the other.
Thanks to its size it's quite easy to hide it in an electrical panel. The connection to the remote terminal information is no problem if you have minimal DIY skills. Be careful though to break the mains meter before doing anything else : even if it's to transfer information, the voltage levels are high and can be dangerous.
For the connection with your home automation controller, your controller must be close to the mains panel in order to realize the wired USB connection. In USB1.1 5m cable is possible if you have long distances between both devices.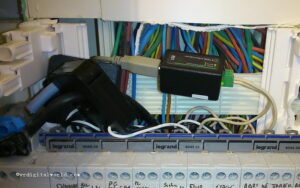 Configuration de la box eedomus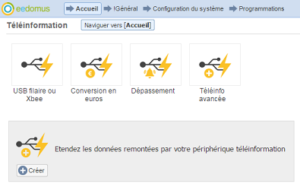 The module is not automatically detected by the box, so you have to install a new wired remote information device to be active. In my case this installation didn't work immediately. A reboot of the eedomus and everything was back to normal.
When device is installed, few information are provided by default by eedomus. The most useful is the "instant" consumption. I put a damper on this "instant" term, because the value is only updated every two minutes.

However, it's possible to access to all the information available. To do this simply add peripherals "Advanced Teleinfo " and select the type of information to retrieve :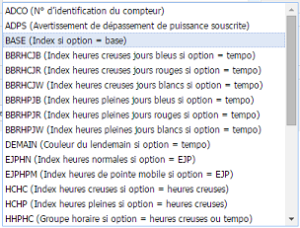 In my case I installed all the information relative to EDF Tempo, the rate of today and tomorrow, and a few other minor details.


Conclusion
It's going to be as small as the device : small price, small size, reliability seems Ok and no particular problem.Another good investment.
I'm also no longer afraid of losing mains rate  information if Internet outage or EDF web page formatting change.