Test of the Chacon doorbell CH54730 new version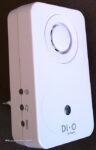 Following the previous test there done on the old version, Chacon company have contacted me about a new version available for this product. It should solve major issue that have been detected : a waterproofness issue.
Chacon have provided me this new version of doorbell through Domadoo.
Presentation
Speaking about features, all those available on first version of product are also available here. You can then refer to the test of old version .
Aesthetic have changed and is simplier compared to previous version, the unit is also less visible in a room. Bye bye dual color plastics, hello full white enclosure. The loudspeaker vent is a classical round now.
The light alert is still present but smaller and much less luminous. Too bad !
The doorbell button is following the same change and is now full white also. A plastic cover has been added to protect it from rain. You like this design or not but for sure waterproofness is treated. The Button is now to be fixed horizontally as is the normal case in european countries.
To be noted, the availability on left of the cover piece of an access to button to open it and be able to change the battery. A rubber plastic piece is closing this slot in normal situation. This is not an ideal solution in term of design, but another time water won't be able to go through…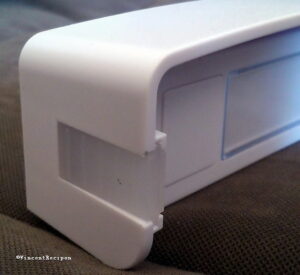 To be clear I preferred aesthetic of first version. What do you think about it ?
Waterproofness
Protective cover is main part that is improving waterproofness. Button design itself haven't been changed mostly.
A shower has been used to test waterproofness of this doorbell button.
After this test the button is still fully fonctionnal. Good thing.
Opening the button we can see that no water have entered into enclosure. The test is passed.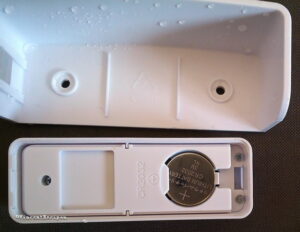 Waterproofness is now sufficient on this design in normal cases (rain dropping with small angle with ground). Button can be located outside and will be functionnal under rain.
However its waterproofness level is not sufficient if button is exposed lots of time to  strong gusts of wind and rain.
Conclusion
Well done Chacon to follow up its range of product and update this doorbell to correct problems detected in the field. Waterproofness issue have been corrected with this new design.
Unfortunately it seems to me also that Chacon wanted to keep doorbell cost identical to previous version, still adding a new cover part. They had to find some mitigation plan and simplify other areas. This is aesthetic that have been simplified.
This new model is the one you should receive when you buy this product. Nowdays there shouldn't have any more stock of old versions in stores.