The multi-domains option by OVH

Since the 2014 year , OVH offers have changed, such that Personal webhosting offer have evolved to  Perso2014 .
The multi-domain option is now included and permits to host multiple websites with different domain names with no extra cost . Having 100GB disk space available , and processing capability that should accommodate up to 5 websites ( OVH information) , why not using it … However, be careful about access time to those websites if visits per day is increasing : this is shared hosting with limited capacity .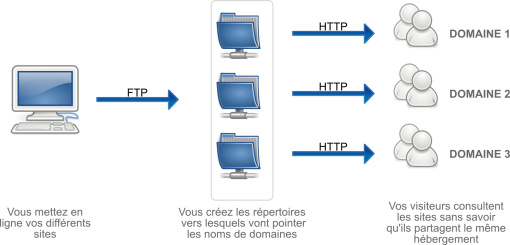 The settings to implement this multidomain are explained in this OVH page (french tutorial is much more detailled) :
http://help.ovh.co.uk/MultiDom
It should be noted that the domain name and DNS server are not necessarily hosted by OVH . I've tested with a domain name hosted by 1 & 1 and it works fine . A reconfiguration of the remote DNS (1 & 1 in my case) is mandatory in this case to target the OVH shared server.
A very good initiative from OVH !