Control a gas boiler with your home automation system

This post is the second one of a series about controlling by  a home automation controller the house heating system described in the first post.
It's going to describe connection of the heater to home automation system through a wireless Z-wave link.
Be careful, those modifications needs some skills in electricity ! A bad installation could destroy electronic board of the heater, meaning a costly repair.
The heater
My gaz condensing boiler is a Talia Green from Chaffoteaux equipped with an MCD IV module. Two ambient thermostats are connected to it (one Expert Control and one Zone Control). An external thermal probe is also connected to the heater.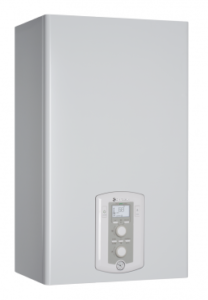 User manuals of those devices are available below in PDF format :
A particular feature of this boiler is that all different elements are linked with a proprietary MBUS bus. MCD module is linked to boiler with a dedicated MBUS link; thermostats are connected to MCD module with a bus link also which provides data transfers and power supply to those.
Default connections to boiler
Several use cases are possible with the boiler. They depend on the configuration which is done by the installer but also on the modules that are detected when boiler is powering on.
MCD module is particular because it includes an electronic board equivalent to the one included into the boiler, in particular it includes terminal blocks for the external devices. As soon as the MCD module is connected to the boiler with the dedicated bus, this is the MCD's terminal blocks that have to be used to connect the other units.
In my case, the default connexions on the MCD module were :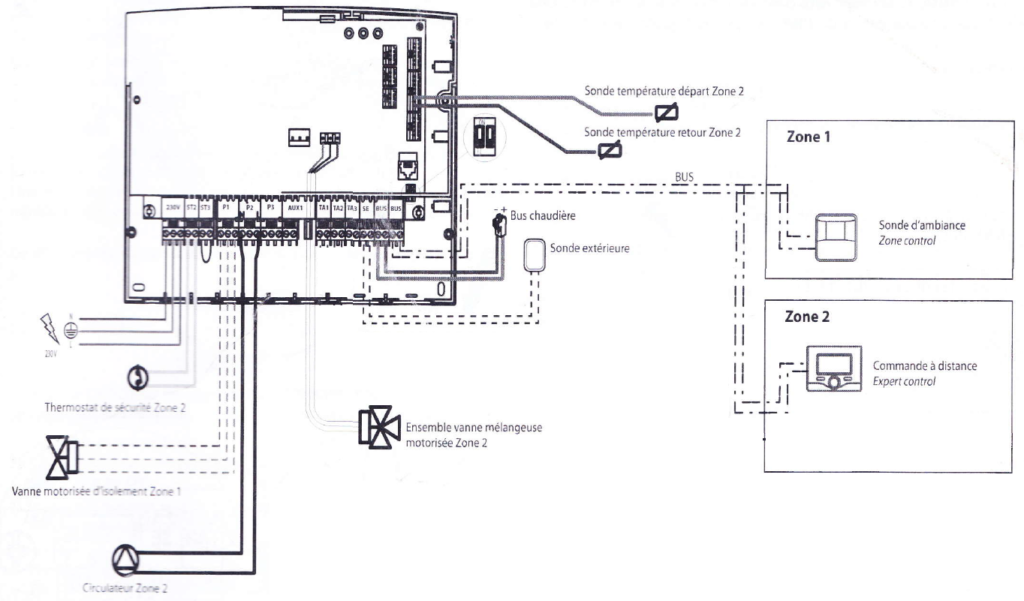 Thermostats (Expert Control, Zone Control) and external thermal probe are connected on BUS terminal and External Probe Terminal (SE) of MCD module.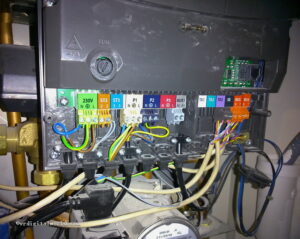 Zone 1 is dedicated to 2nd floor low temperature radiators.
Zone 2 is for 1st floor floor heating system.
On both zones, configuration of the boiler is activating the most advanced control mode : by using internal probes (thermostats) and the external probe :

The dry contact inputs TA1 and TA2 aren't used.
Mode connected to home automation
There's no possibility, at my knowledge, to connect home automation to Chaffoteaux MBUS. This bus is technically speaking quite simple, but with a proprietary protocole.
We have to use another way to connect : dry contact are going to provide a way to control the boiler. We'll see in next posts that, although those inputs are simplier (ON/OFF status instead of temperature level), efficiency of control won't be altered.
Overall connection plan is this one :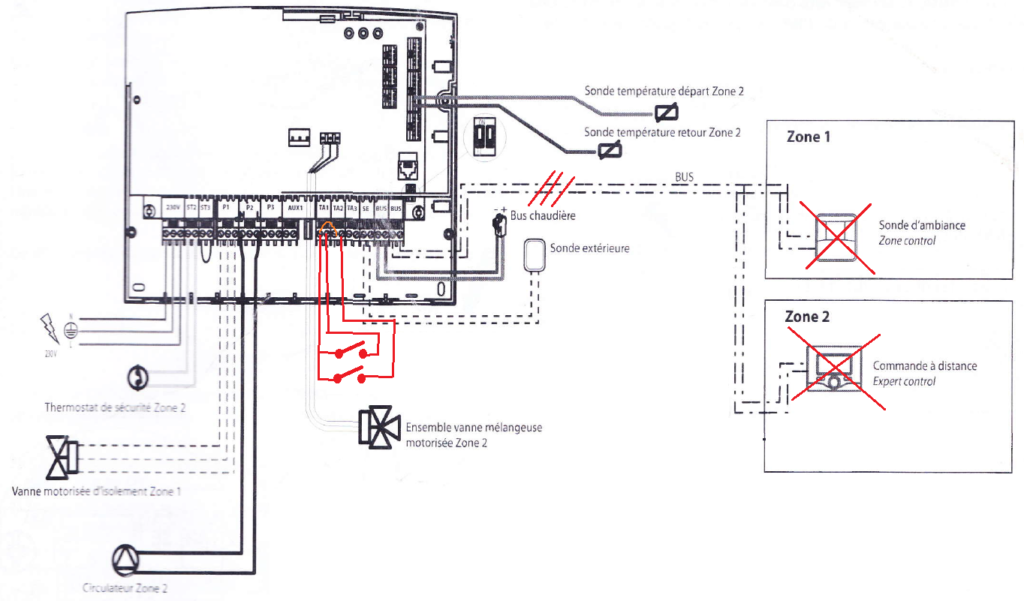 Following several test, it appears that inputs TA1 and TA2 can't be used if thermostats are detected on the bus. To be able to use those dry contact inputs, I had to disconnect the thermostats by removing the wires arriving on the BUS terminal block. In my case wiring was done with 2 CAT5 network cables for both thermostats ( data and power are low voltage one)
It means that thermostats are going to stay powered off without any way to have information displayed :-(.
For both zones, regulation mode have to change. There's no more internal ambient temperature, but boiler can use external temperature. Home automation controller will control room temperature using its own temperature sensors.

Installing Zwave module
To simplify setup, I've decided to install a 2 channels Z-wave modules. Each channel is controlling one heating zone. Before starting installation of the module in the boiler, I've paired it with my Z-wave network.
All ON/OFF modules can't be used. It's mandatory to  have outputs isolated from mains power supply.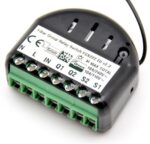 To select the correct Z-wave module, this french post "Comparatif des micromodules relais on_off" can help you. The row called "Tension de sortie" is indicating if outputs are independant from power supply of the module :
For 2 channel modules, there's no choice, only the Fibaro FGS222 have those kind of outputs, this is the one I've used.
If you have only one heating zone to control the following modules can be used : Fibaro FGS212, Qubino ZMNHND1, Everspring AN179.
Fibaro FGS 222 have a specific organisation. The outputs are not fully independant because IN terminal is common to both. The boiler must then have a common terminal for both dry contact. To ensure this is the case :
unplug completely boiler from main power supply
find a continuity tester or a multimeter in  ohmmeter mode

Test between terminal 1 of TA1 and TA2, also  terminal 2 of TA1 and TA2. In most boiler, also the Talia, one of the terminal is linked between the two inputs, then impedance is zero.
IN terminal of Fibaro module will be connected to this common signal on TA1 and TA2.
The wiring schematic between the MCD terminal blocks and the Fibaro module is then :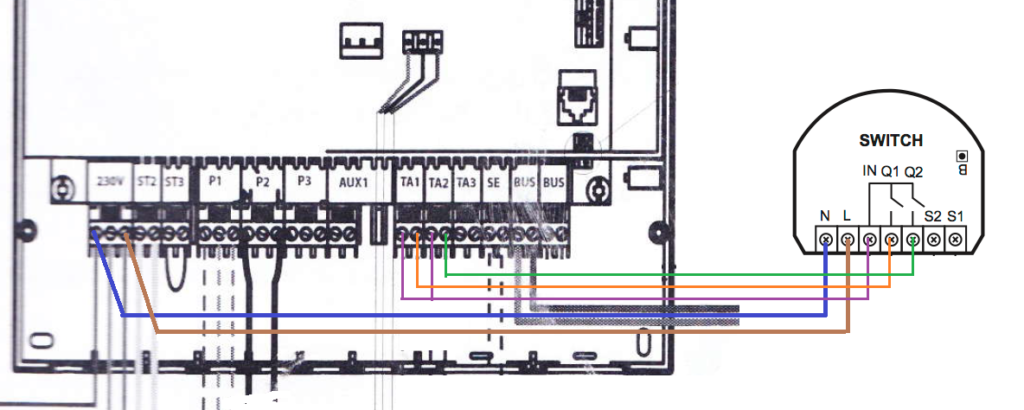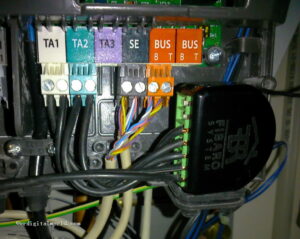 When wiring is finished, the Fibaro module can be inserted into electronic board case of MCD .
The case can then be closed, and cover of MCD module mounted.
Installation test
The boiler gives access to diagnostics information. Two of those can help verifying correct behaviour of the setup :
If everything is correct, parameter 434 should reflect status of Fibaro module channel 1, you can change its state using your home automation controller.
It's the same with parameter 534 which should reflect status of Fibaro module channel 2.
Conclusion
The boiler can now be controlled by home automation controller. Start/stop status of boiler is managed by outputs of Fibaro module.
Next posts will describe control mode that can be put in place in the home automation controller.